I like tinkering with hardware and water-cooled machines. Here are my favourite builds.
---
Thor IV (since 2020)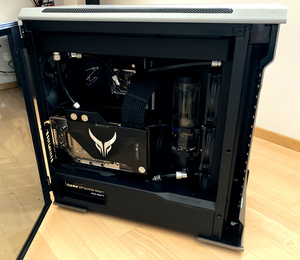 CPU

AMD Ryzen 7 3800X

Board

Gigabyte X570 AORUS Xtreme

RAM

32 GB G.Skill Trident Z Neo DDR4-3600

GPU

PowerColor RX 6800XT Liquid Devil
Gigabyte AORUS GeForce RTX 2080 SUPER WATERFORCE WB 8G

Case

Phanteks Evolv X

Cooling

CPU: EK-Velocity AMD RGB Nickel+Acryl
Rads: 2x EK-CoolStream PE 360
Res: EK-RES X3 250 RGB
Pump: Laing DDC-1T Plus
Fans Rad: 6x Noctua NF-F12 PWM chromax.black.swap
Fans Case: Noctua NF-A14 PWM chromax.black.swap
There's a long article about the story of how I went from all-AMD with Radeon RX 5700XT and the infamous ASRock AQUA limited edition premium motherboard to an X570 Aorus Xtreme and an RTX 2080 SUPER with this build.
In 20201 I finally got back to my old All-AMD plans and replaced the NVIDIA card with the most beautiful GPU I have ever laid hands on.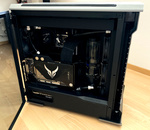 ---
Thor III (2015-2019)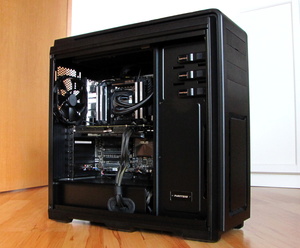 CPU

Intel Core i7-5820K (overclocked @ 4.5 GHz)

Board

ASUS X99-E WS

RAM

16 GB DDR4 Corsair Dominator Platinum

GPU

EVGA GeForce GTX 980 ACX 2.0

Case

Phanteks Enthoo Luxe

Cooling

CPU: Corsair H110i GTX AIO-Watercooler
For this machine, I took the money I usually spent for water cooling components and put it into hardware. The result was a truely exquisite choice of premium components - at the cost of having a minimum of additional noise.
Regarding visual appearance, it surely can't compete with a water-cooled build, but who knows - maybe this lack will be fixed some cold winter...
Concerning overclocking, this machine is fantastic: the i7-5820K went from stock 3.3 GHz to 4.4 GHz just by setting a higher multiplier and raising Vcore to 1.950 V. I think there is still some headroom left, but I prefer a stable system to a whacky overclocking record.
---
Thor II (2012-2014)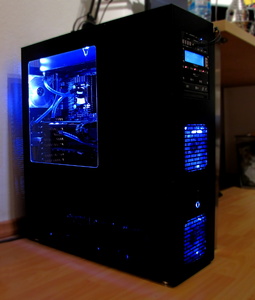 CPU

Intel Core i5-3570K

Board

ASUS P8Z77-V

RAM

8 GB DDR3 Corsair Vengeance

GPU

EVGA GTX 580 FTW Hydro Copper 2

Case

Little Devil LDPC-V8

Cooling

CPU: Aqua Computer Cuplex Kryos XT
Pump: Laing DDC-1T Plus
Controller: Aqua Computer Aquaero5
Rads: 2x EK-CoolStream RAD XT 480,
Phobya G-Changer 480 Ver. 1.2 Black
Amps: 3x Aqua Computer PowerAdjust II
The ultimate answer to the question of water cooling cases: Little Devil PC-V8. A whole new dimension of space for building watercooled rigs, possibilities are endless here.
Given this uncompromising case I chose to be alike when designing the water cooling: three quad-rads, 15 fans controlled by an quaero 5 and three PowerAdjust II.
Sometimes I really miss this build...
The drawbacks of that really extreme case were the lack of some little details like dust filters, the fact that you have to unscrew 11(!) screws to remove one side door, and the weight: with all that rads and stuff one simply did not want to move that thing anywhere.
---
Thor I-b (2012)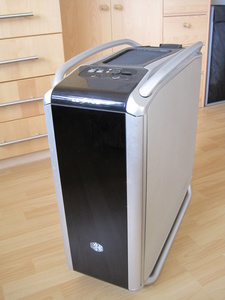 CPU

Intel Core i5-2500K

Board

ASUS P8P67-EVO

RAM

8 GB DDR3 Corsair Vengeance

GPU

EVGA GTX 580 FTW Hydro Copper 2

Case

CoolerMaster Cosmos 1000
A reincarnation of Thor I with new components and some modifications to the case, e.g. more vent holes drilled into the top and an even bigger radiator (45mm thick Phobya triple). As hardware was getting more energy-efficient and cooler that time, the temperature problems were almost gone.
Sadly that build died one day when I tried to include the motherboard in the water-cooling loop. Turned out I had picked components for the wrong revision of the board, and did not mount a block on the EPU.
---
Thor I-a (2009-2011)
CPU

Intel Core i7-920

Board

ASUS Rampage II Extreme

RAM

6 GB DDR3 OCZ Gold

GPU

Zotac GeForce GTX 280

Case

CoolerMaster Cosmos 1000
My first water-cooled build after a long period of air cooling. First attempts with a 220 dual rad did not take the 130 W TDP of a hot i7-920 and 236 W MGCP of the GTX 280. Even with a 360 triple-rad the system still had some temperature problems. Looking back from now I can say that the case just did not fit the needs for air flow.